I'm currently in Toronto, in the dead of winter. It's beyond cold out there, the chill seeping deep into my bones, making my skin burn a little. Yesterday I literally ran home from the streetcar stop because it HURT to be outside. That is cold.
My skin should be dry and flaky, and peeling from the temperature fluctuations and dry hear indoors as it normally does in the winter…
But no such luck. In fact, I'm flake-free and clear for the first winter in YEARS.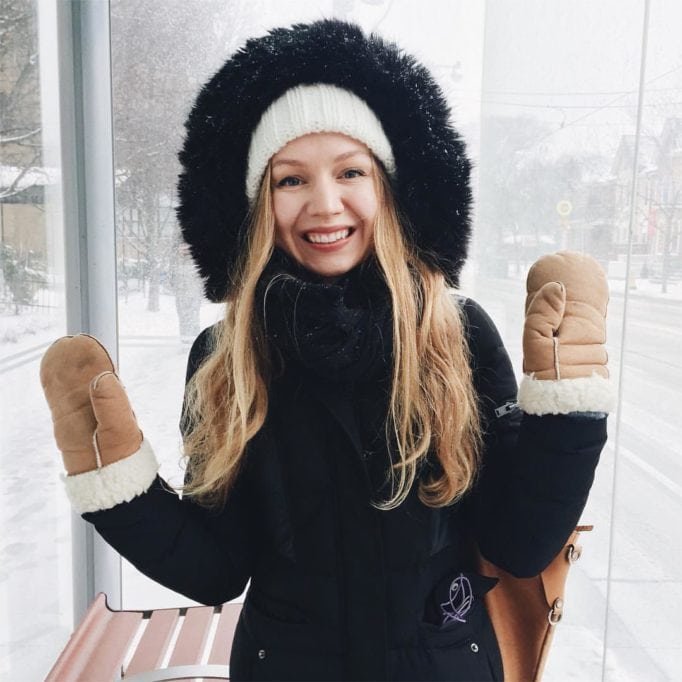 Because healthy skin needn't be dry, and my skin is healing beautifully.
Believe it or not, hydrating your skin is not as simple as just slathering a product on dry skin. You might have had varied results with moisturizers, and that's because there's an art to choosing and applying hydrators. This article will attempt to shake up your views on moisturizing your skin…
​
28

Days
OF CLEAR SKIN
In Your Inbox!
I'm sending you 28 of the most game-changing
skin tips EVER!

So sign up now because you won't want
to miss a single one!
​
I can't say for sure how many moisturizers I've gone through in my day, everything from Nivea to Dior. Most of them made me break out, while most others just sat on my skin. I didn't know what I was doing, and I didn't understand what my skin needed.
I know there's no harder product to find than a good moisturizer, but I'll help you try!
Layering Hydrators
When you think of moisturizing your skin, you might think that it's just one step. It can be if the product has the right combination of ingredients, and if you apply the one product correctly…But I haven't found such a product.
More often than not, moisturizers are not perfectly balanced with a good mix of humectants, emollients, and occlusives.
There are a few ways to properly hydrate your skin, and a few different kinds of products you can use to get the best effect. There are hydrating toners, mists, essences, serums, lotions, creams, masks, and even sleeping packs. The ranges of products keep growing with innovation in skincare. 
Techniques for proper hydration are also changing. What used to be one step, can now be 2 or more depending on your skin.
Layering products seemed crazy to me before I tried it. I thought that it would be too much product, that my skin couldn't possibly absorb all the moisture.
I've tried the one step hydration thing – for years! And it sucked.
I started combining products (sprays, serums, gels) and found they worked better together than apart. I started seeing that maybe more was more.. The more hydrating products I applied, the better my skin became.
Later, my skincare research brought me to Korean Skincare.
A Korean Skincare routine can be 10 or more steps! I couldn't understand HOW or why…
Turns out the Koreans are kinda ahead in the skincare game, and actually know a thing or two.
They're all about listening to the skin's various moods, and tailoring the skincare according to the current mood. 
If the weather is extremely cold one day, they might switch to something heavier. If the skin is acting out, they'll use something more gentle – the Koreans have a product for everything.
They layer like nobody's business! This really means that they use a very tiny bit of product in each layer, and they use it properly.
And when it comes to moisturizing, Koreans are pros! They know how to layer moisturizers so that the skin gets a ton of water, and then they seal that water in with products that won't let the water evaporate.
I wouldn't have considered water EVAPORATING from my skin if it wasn't for the genius Koreans! Dermatologists refer to this as Transepidermal Water Loss or TEWL.
Though I learned a lot from the Koreans about skincare, don't worry, my moisturization routine ends at only 3 products and works regardless of season.
Do you ever feel like no matter how much moisturizer you apply, your skin is still dry? Or no matter how much moisturizer you slather on, your skin is still flaky, tight, and covered in pimples?
Using the wrong moisturizer, the wrong way, can result in worsening of skin. 
I discovered purely by accident, that applying a moisturizer after spraying my face with water made a HUGE difference in the effectiveness of the moisturizer. Water, not just oil, is an important factor in having the skin you want.
I've never applied a moisturizer to dry skin ever again. Water first!
Drinking water is incredibly important for clear, hydrated, glowy skin. Unfortunately, no matter how much water you drink, your skin gets it last. This leaves the skin parched…thirsty. 
Have you ever experienced skin that is flaky and oily at the same time? That's a sign that your skin is dehydrated.
Dehydrated skin lacks water.
Dehydrated skin lacks moisture, while the sebaceous glands are actively producing sebum. You might find your t-zone getting oilier throughout the day, while your skin is flaky and covered in pimples.
Naturally, we assume that dehydrated or dry skin needs heavier products to really help moisturize, like oils and heavy creams.
The more oily, or occlusive products you apply to your flaky face, the more dehydrated it will become.
If the skin is lacking water, applying oils will not give it more water. In fact, applying oils to dehydrated skin will keep the water out, not in. 
Imagine a dry sponge (that's your dehydrated skin). Now add a thick cream to it…Will the sponge get bouncy?
On the other hand, you may be experiencing hydrated skin that feels dry.
This happens when you aren't producing enough sebum (face oil), so that the sebum between your skin cells can't keep the cells together. Imagine mortar between bricks as your skin – when the mortar is hard (healthy) it keeps the bricks together in a strong wall, if the mortar is weak (dry) then the brick wall falls apart.
While dehydrated skin needs water, dry skin needs oil (sebum). Your hydrated skin can be dry, while your dehydrated skin can be oily. Baffling stuff…
The idea is to strike a balance with enough water in your skin, and a healthy amount of sebum to moisturize and protect your skin.
If you wash your face with harsh cleansers then your Acid Mantle can be compromised leading to disastrous skin. Read about cleansing properly here.
Dry skin can be scaly and flaky, and the flakes of dead, dry skin can cause build-up in your pores.
The reason why your skin is dry or dehydrated is usually because of a build-up of sebum or skin cells or both in a gross pimply mess. This unfortunate layer is difficult for products to penetrate.
The good news is that you can add back the moisture to your skin, but you gotta make room for it first.
Imagine dehydrated skin – it's covered with skin cells mixed with oil that are begging to be exfoliated to make room for some hydration.
If you find that you have trouble finding a moisturizer that actually makes your skin supple, soft, vibrant, and hydrated…Then you can benefit from exfoliation. 
Once you've cleaned your pores, then cleared them of any plugs and excess dead skin cells with a good exfoliant, you are ready to hydrate your skin.
Note: A good BHA toner can really help with clearing out gunk and prepare the skin for treatment and moisture.
How do you know which product to choose?
There are 2 types of ingredients to look for in a moisturizer depending on your needs:
1. Humectants – humectants retains and preserves moisture in the skin by helping the skin hold more water. They attract more moisture to the skin. Dehydrated skin can best benefit from humectants because it's thirsty, and needs help retaining water. Think of humectants as tiny wet sponges next to the skin, keeping the skin moist.
Examples:
     Hyaluronic Acid – found naturally in the body, holds up to 1000 times more water by weight
     Aloe – extremely effective and natural humectant
     Glycerin – a synthetic humectant, but a good one
     Honey – all natural humectant, with antimicrobial properties
     Alpha Hydroxy Acid – it exfoliates and helps the skin retain moisture better
2. Emollients & Occlusives –  Water moves from the dermis to the epidermis (from the deep layer, to the surface layer). When the skin is dehydrated, the water evaporates, and is lost from the skin. Emollients and occlusives are ingredients that trap the water and keep it from evaporating. It would seem to you that they sound like they could clog your pores, since they 'trap' water. It's true, emollients and occlusives can potentially clog pores if they're used wrong, that is applied generously to dry skin. However when applied over a humectant, or with a humectant, they can actually make incredibly effective moisturizers.
Examples: allantoin, squalene, plant oils, cocoa butter, shea butter, lecithin.
Dehydrated skin needs humectants desperately, and dry skin might need all three: humectants, emollients, and occlusives.
The theory behind moisturizing properly is that you have to infuse your skin with water, and then cover that layer with something that will make sure that the water will not evaporate from your skin like an oil.
Water > humectant > emollient > occlusive
I spray my face with either thermal water or a hydrating spray to make sure my skin is damp, then I apply a serum that contains aloe and hyaluronic acid (humectants), and while that's drying, I apply a gel moisturizer that contains water, glycerin, and squalene (a humectant, and an emollient).
These three steps seem to be enough, but if they weren't then I would add an additional occlusive step to help keep everything in. 
You can take even 5 steps to properly hydrate your skin, but if you feel that your skin feels amazing after just 1 or two steps, then stop there.
The best test for a moisturizer is Canadian Winter, and mine work like magic.
But where do you start?
Here's a breakdown of the kinds of hydrating products you can use, from lightest to heaviest. The general rule is to apply the lightest (most watery) textured products first, and the heaviest products last.
This makes total sense because if you applied a light water based humectant product OVER an oily occlusive, it would not absorb into the skin. Heavier products will keep the water-based products out.
Spray/Toner

Essence

Serum

Gel/Lotion

Cream
You MUST prepare your skin to receive moisture, and then apply the moisture in the right order. I hope that now you can better understand why some moisturizers don't work the way you expect, and can use them in a way that gives you the results you want.
You can read about my exact moisturization routine here. 
Love,
Olena
PS. Say hello on Facebook! 🙂