Hi, I'm Olena
A skin health coach, writer, entrepreneur & unshakable optimist dedicated to helping you get the clearest skin of your life.
A fast-walking optimist from the USSR, that got a mean case of acne and learned how to get clear skin through immense self-love.

So despite being raised on organic meats and veggies (fresh and home grown errthang), I still got a beautiful case of pimples when I hit puberty.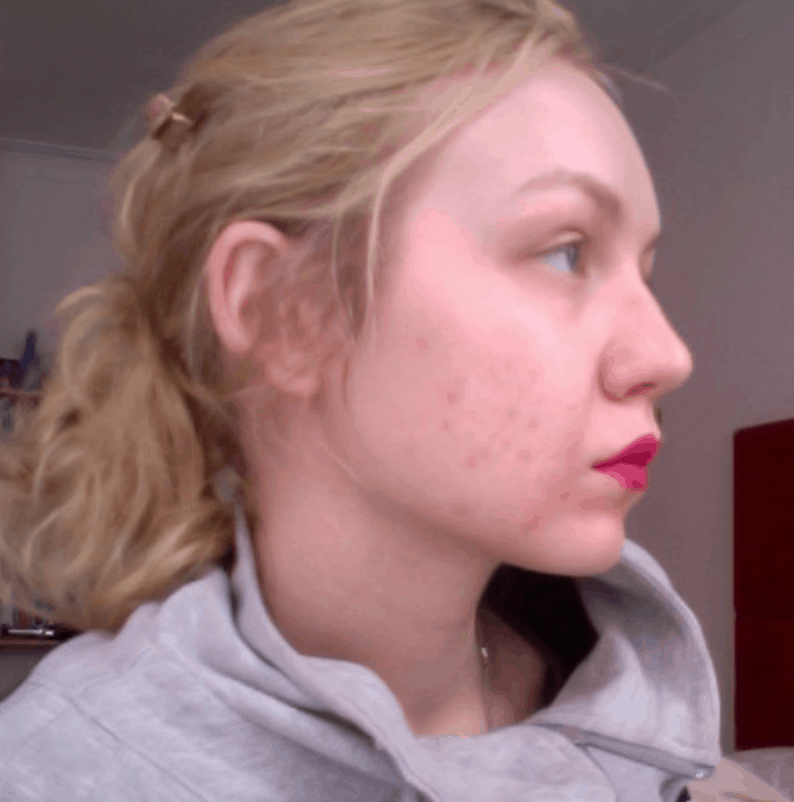 My hormones were being crazy, plus I had a mild obsession with Canadian processed food like ketchup chips and chocolate chip cookies so it was no surprise that I was breaking out.
Not to mention I had no skincare routine to speak of. That's right, I Olena, didn't wash my face.
I thought I'd grow out of them, but when I didn't I started looking for serious solutions to my little problem.

I searched high and low, and tried every product you can imagine from Nivea, Proactiv, acne.org, Neutrogena, Clean & Clear, Oxi, Jamieson, St.Ives, Clarins, Guerlain, Dior, Nuxe, Paula's Choice.. These are just the brands that I remember.

I tried everything SHORT of Accutane.

In fact my dermatologist prescribed it to me, and I even held the bright pills in my hand. I don't know if it was intuition or divine intervention, but I decided that the long list of side effects weren't worth it - and threw the pills away.

Years of research and experimentation later (14 years) I realize that there's no perfect answer to clear skin, but I also know that it's completely possible.


Gone are the days of feeling super insecure and lame about having a forehead and cheeks COVERED in pimples. Gone are the days of not wanting to leave the house!

It's all about taking charge of your face, your health, and your life.
If you won't, nobody will.

The only reason why anyone is experiencing anything that they don't want to be experiencing is because they're either misinformed or underinformed.

So I've dedicated this site to our clear skin journey, mine and YOURS. I'll share the latest research, products, techniques, health, diet, and mindset information with you for clear and irresistible skin.

You'll get awesome (and free) content on my
blog
and access to my video training called
28 Days Of Clear Skin
in your inbox as soon as you subscribe!
If you need more help, you can work with me one-on-one, join my coaching community, or even get my course that will teach you everything you need to know about clear skin!
I'm here to serve you and make sure you have a place that cuts through all the noise and misinformation so that you can actually see clear skin on your beautiful face.
About

POP THE PIMPLE

I love popping pimples. But I'd much prefer it if I didn't have any to pop. As a notorious pimple popper, I know the only real way to stop popping pimples is to get clear skin.

So my work and this blog are devoted to helping you get CLEAR SKIN -- without Proactiv or Accutane.

Pimples are so last year.
"I took Olena's advice of eliminating dairy out of my diet and I've noticed my breakouts diminishing.

I also started to follow the routine [that Olena recommended] and my skin improved dramatically. I stopped having new breakouts and my skin looks so fresh and clear it's almost unbelievable. For me it was definitely life changing and now I'm very happy with my skin! Thank you Olena!"

Want to be in on my BEST hacks for clear skin?
Sign up and get my

28 Days Of Clear Skin

video series in your inbox.
"Hi Olena, I love your hacks so much and I honestly feel like you have helped me more than any doctor ever has. I have suffered for YEARS with cystic acne.

I have been following popthepimple.com for 45 days now and my cysts are gone for the first time in my adult life. I have tried everything you can imagine and the 28 days of clear skin have helped me immensely! People don't realize how badly adult acne affects our outlook on life and our bodies, but there is an answer!

Knowledge is power and I am following your site. Everything you talk about reigns true with me and I love having a place I can go and get honest help. Thanks so much and I am forever grateful for your insight into clear skin! You are doing great things and your light shines in your work."